We understand that newspapers are losing out to the Web because people can access current information about the world without having to wait or pay for it — a classic case of disintermediation at a price that can't be beat.
Therefore, to stay competitive, I propose that traditional newspapers reinvent themselves as information visualization bureaus, printing relevant charts and graphs on a periodic basis, as well as subscription-based premium interactive tools to support free news content online, along with advertising. They could also use optical codes for promotions and premium content, tying in the entire experience.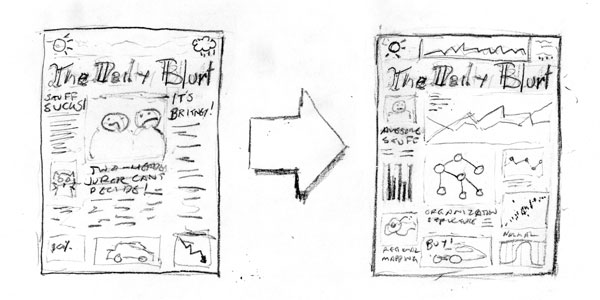 What this entails is inverting the ratio of prose to data graphics. Newspapers already have plenty of experience with information visualization and have recently taken the cue to refine their skills to a high art. This transformation would effectively turn the beleaguered newspaper which peddles in low-density reporting into a powerful new meta-newspaper that gives readers clarity into the data-drenched world around them. This is something I think people would actually buy, and this is why:
People are interested in current events because they give them greater visibility into what is going on in the world right now.
Newspapers are established, trusted brands in the provision of this kind of visibility.
Information visualization provides similar visibility, but in a much denser package.
Information visualization, like journalism, is a profession that requires great discipline and training.
Data graphics themselves, like artifacts of good journalism, are artful pieces which cannot be produced entirely by machine, and can be well worth waiting and paying for.
The information density of these visualizations amplifies the need for accuracy and journalistic integrity, which may be of strategic value to readers.
With the proper organizational structure and computer-based augmentation, visualizers could produce high-quality custom data graphics in 24-hour news cycles.
Newspapers already have all the infrastructure necessary to gather, filter, distribute and monetize this information.
As for how this information is delivered, I believe that sequential, non-interactive, paged media make perfect sense in didactic, fact-reporting situations. I also believe that paper will always have a place, even when devices like the Amazon Kindle become ubiquitously affordable. Paper is still inexpensive, collectible, transferable, archivable and doesn't depend on batteries or a network connection. But I digress; this is about the evolution of meta-newspapers, which very well may be under way.