So much value in the digital domain—and creative work in general—goes uncreated, because it's impossible to get a budget for it. As I mentioned elsewhere, not only is this value dirt cheap to acquire, provided you know exactly what you need to do—and I hope you wouldn't be trying to convince somebody to pay you to do it if you didn't—but it's virtually impossible to make any meaningful forecasts about the effort's return. The result is that the cost is often too small for a decision-maker to even spend any time considering, and even if it isn't, any ROI projection is completely untrustworthy, making it hard to compare against other candidate investments.
This article is a sketch of a mathematical model, a simulation for understanding the shape of the value generated by creative problem-solving of any kind, not just in technology. We care about creative problem-solving because it is the common core of all art, literature, design and innovation. The model's purpose is to show that the results of creative problem-solving are statistically wild in their value, and should be treated as speculative. It also hints at a strategy for making such speculation reliably profitable, by changing the deal to be about accumulating solved problems rather than trading on specific deliverables. This model is an integral part of my larger goal to arrange the business of creative work around the realities of its structure: you damage the process, and the results, by trying to force either the pace or the sequence, so don't. The proverbial goose will lay her golden eggs as long as you let her.
The Model
The value created over time by any product you release out into the wild exhibits a similar shape: the S-curve. Growth starts out slow, then shoots up like a hockey stick, before finally flattening off at some arbitrary maximum which is unknowable in advance. Furthermore, the speed of the uptake is also unknowable, and like the work of so many artists and writers, the result could sit on a shelf for decades before it is rightfully appreciated—but for the moment, we'll leave that problem to the marketing department.

Now, let's imagine our contrived, lone creator, showing up at work every day and producing something. In contrast to construction or manufacturing, the value of that something is non-uniform and completely unpredictable. It does, however, obey a rule. You've probably heard of it: the 80-20 rule, the long tail, or 90% of everything is crap. Its official name is the Pareto distribution, and you can find it just about anywhere.

Most days, our friend creates something mundane, like some emails or a little experiment. But every week or two, she makes something conspicuously valuable, and sometimes she hits the jackpot.
We model this phenomenon by generating random values according to the Pareto rule, and feeding them into our curve function as the height and slope parameters, with the zero point for each curve corresponding to the completion of a new something.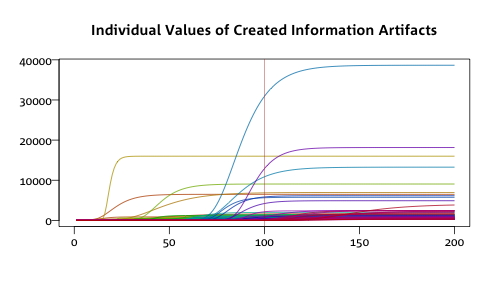 Of course, the value of these somethings is cumulative, so we add them together:

You can already see that the range of outcomes is completely wild, so at this point we should understand that this kind of work is inherently speculative. Despite that, our hypothetical creator has to pay rent and put food on the table. The task, now, is to come up with a way to pay our hero fairly, and in such a way that will not cancel out the return.

That's it: f(x) = -ax, quantized every 20 in-universe days to simulate real payments. Pay her a flat rate for a certain amount of committed days per month. Anywhere between five and twenty should suffice. As for days as the basic unit, I use a four-hour cell, myself, because that's the smallest chunk of time in which I can reliably produce a meaningful result. If you subtract this function from the sum of the values of the artifacts, you get a sawtooth shape, like this:

I recognize that most real-life scenarios are going to be considerably more complex than this. For instance, I'm leaving out the arbitrary capital expenses that will emerge from time to time in order to get a particular job done—but by then, one would expect that there was enough information about the return on that job to justify them. This model also fails to take into account the fact that more often than not, there is more than one person on the job, so the cost function will get more and less steep as people join the project, or complete their work. Finally, earlier results will inform later investments, and by extension, later results. In the end, the net return over time will, unsurprisingly to some, look something like this:

If that looks to you like a stock chart, it's because it more or less is, notwithstanding having zero predictive value. The point is that any endeavour to solve a problem is inherently speculative, but the costs are present no matter what. The trick is to arrange the process, and its financing, so that it is as likely as possible to yield net positive results concomitant to the investment at any given time. That is, if you pick a problem you can solve today, and close out the day with that problem solved, you have an asset. Even if it's only tangentially related to your business objectives. If, however, you try to conform to the milestones of a conventional, prescriptive schedule, the problems that you have to solve may present themselves in a sequence that leaves you empty-handed, some, maybe most days.
If 90% of everything is crap, the obvious strategy should be to produce as much crap as you can afford, because the other 10% will be spectacular.