If you want to build a ship, don't drum up people to collect wood and don't assign them tasks and work, but rather teach them to long for the endless immensity of the sea.
The IAI is primarily a technical organization, dedicated to the advancement of the practice and technique of information architecture. It is a distributed, global organization, with no physical headquarters. This makes the website the headquarters.
We (and every board before us) have been treating the website like a static asset rather than the reification of ongoing activity. Furthermore, we have been conceiving of the website as a product to be consumed by members rather than something they create. The proverbial cobbler's children are cobblers themselves, yet they go without shoes not for a lack of tools or talent, but for the yoke that makes it feasible, obvious, rewarding, even easy.
Systems run better downhill. This organizational structure is concerned with making a website, and more about keeping it going. It is a proposal for a permanent standing committee, which decomposes into six subdivisions.
Tom Sawyer Outsourcing
Even in its best financial straits, the IAI could never afford to pay people anything close to what they were worth—or even move the needle. How we persuade people to volunteer their time is by offering an opportunity to try something that they wouldn't get to do in their everyday work, to achieve ends they can demonstrate so they can do it in their everyday work. That, and arranging the work in such a way that the next step is obvious and can be done in a fashion that approaches recreation.
Interested in What is Interesting
The (perhaps overly-ambitious) goal is to embody the process of every aspect of web development into the site itself, reifying theory into practice, and practice into open standards and software. We likewise credit those who contribute, as is the plan to showcase the work of everybody who has contributed to the IAI archive over the years.
Anyway, the teams:
Alpha Team: Process
Objective

Identify user archetypes and their concomitant goals, and plot out the nuts and bolts of the interactions they must perform to achieve those goals. Then, present the results in a way which is informative and convincing to the rest of the people on the project.

Raw Material

Research questions and their subsequent findings, along with the theory of the business for the IAI.

Product

Illustrations of discrete business processes, and the solid, evidence-based reasoning that underpins them.

Analogous To

An interaction design team.✱

Requisite Skills

Gathering and synthesizing demographic and ethnographic research, authoring personas and scenarios, illustrating user interface sketches and storyboards.
Why Join
We're doing something different with this work. First, the artifacts you create will not be disposable rhetorical devices, but assets that long outlive any particular software implementation. Second, as an organization dedicated to professional development and the advancement of technique, our goal is to demonstrate the damn thing. In this case, it means that for any aspect of the site, we want to make it possible for those interested to examine the chain of decisions that brought it into existence.
Beta Team: Content
Objective

Create and curate fresh, clear and useful content that informs and delights, keeping in tune with the inherent properties of the medium.

Raw Material

Same as Alpha Team, plus Alpha Team's product.

Product

The corpus, as a mixed bag of text and audiovisual documents, as well as microcontent, like messages and form labels, and relevant metadata.

Analogous To

A team that understands content strategy, online publishing, and new-school editorial. And of course, the -ations: translation, internationalization and localization.

Requisite Skills

In addition to the above, some hypertext theory, or at least an interest in learning it, will be essential.
Why Join
Content is the purpose of visiting a website. Or any media artifact, for that matter. So for starters, you get to shape that. From a more practical perspective of professional development, we are looking at the generic problem of uptake, and the peculiar problems of content on the Web. We will not only decoupling content from layout, but also from the site's structure, as well as from the confines of conventional documents, and recoupling content as intersecting narrative paths.
We will also look intently at abridging the crapwork of content, like collation, tagging, translating microcontent, etc. Our goal here, as in the other teams, is the acquisition of more sophisticated tools, techniques and patterns.
Gamma Team: Structure
Objective

Enable people to understand what they're looking at, find what they're looking for, while paving the way for delightful, serendipitous discoveries.

Raw Material

Same as Beta Team, plus its product.

Product

Coherent anatomies for the elements of the content corpus, and a clearly-marked, consistent, inferrable structure for the whole.

Analogous To

An amalgam of new-school information architect, classic librarian, logician, philosopher and data scientist, appropriately apportioned into a tight group of people.

Requisite Skills

In addition to the above, at least a familiarity with discrete mathematics and the semantic web.
Why Join
We will be looking at new ways to compose structure, both at the page and at the site level. We will compose from the bottom up, using content as raw material, creating semantic relations between units thereof, and using set and graph theory to create structures that could never be conceived through conscious categorization exercises. We will then render it all in the language of the Semantic Web.
Delta Team: Implementation
Objective

Make all of the above work, securely, efficiently, reliably, transparently.

Raw Material

The products of all aforementioned teams.

Product

A website that works, and continues to work.

Analogous To

A dev-ops team.

Requisite Skills

Programming polyglotism, grokking open source and open standards, a deep connection to the web, and a healthy dose of infosec-oriented paranoia.
Why Join
We're going beyond platforms, frameworks and APIs, and exploring some of the truly weird and wonderful properties of the Web. We're looking at creating intelligent heterogeneity—an ecosystem wherein different systems can interact together, and can be retired and replaced without a complete overhaul. We're also going to try to crack the holy grail of federated authentication and data portability, to set an example for a more open Web.
Epsilon Team: Packaging
Objective

Carry the ensemble the last mile to the myriad types of terminal.

Raw Material

The ensemble.

Product

The multitude of refinements that make a great experience.

Analogous To

Typesetters, bookbinders, illustrators—whose native medium is the web.

Requisite Skills

A visceral understanding of the medium and how it behaves on various display surfaces. And of course, HTML, CSS and JavaScript.
Why Join
Because you're gonna get to let 'er rip. We want to provide you with the best palette to paint with, to really show how the job of taking a site, to all the places it is enjoyed, is done.
Omega Team: Executive
Objective

Embody the conceptual integrity of the project and marshal the people and the resources to realize it.

Raw Material

Whatever is deemed appropriate.

Product

Whatever the other teams don't cover.

Analogous To

The producer-director pair depicted in the end of Chapter 7 of The Mythical Man-Month, plus any necessary support personnel.

Requisite Skills

All of the above, plus management acumen.
How We Operate
Our job is to shape the ensemble—content, structure, implementation, and overall user experience. It is to plant the conceptual seeds, ensure that they grow, and prune where necessary. Our initial involvement will be considerable, until a direction is cemented, then we will gradually defer to the leader of each team. While the executive claims residual decision-making/veto power, we want to ensure that this power is indeed understood to be residual, like the president of a parliamentary republic. Each veto is a test of confidence in this leadership.
The executive operates as interface to the rest of the organization, to finance and marketing, as well as cross-cutting concerns (e.g. SEO).
The core executive team consists of a producer, who procures the resources, and a director, who shapes the product. While there are scenarios that merit either the producer or director in charge, only one maintains the final say. The principal executive is elected (myself), chooses one of these roles (director), and then nominates the second (vacant) to fill the other (producer). This team stands until the next board election.
Intramural Feedback
These teams are organized in terms of net flows of information and the order in which I need them. But that doesn't mean the information flows in one direction, just more in one direction than other directions.
Accusations of Waterfall?
It should be understood that the basic unit of progress is not the site itself, or even a section thereof, but the facilitation of a discrete user goal which I have dubbed a component. While I envision this process happening initially and at the micro-level, it would be a mistake to run the entire process this way. There will be copious crosstalk.
The Sand Dollar
This image is what happens when you represent the total number of possible one-way information flows between groups of people. As you can see, it is considerably more complex than a waterfall model, though the connections are weighted to represent their relative volume of information. Flows have also been labeled in terms of their predominant nature.
Teams
Information Flow

Α Process
Β Content
Γ Structure
Δ Implementation
Ε Packaging
Ω Executive

▬

Product

▬

Guidance

▬

Reporting

▬

Feedback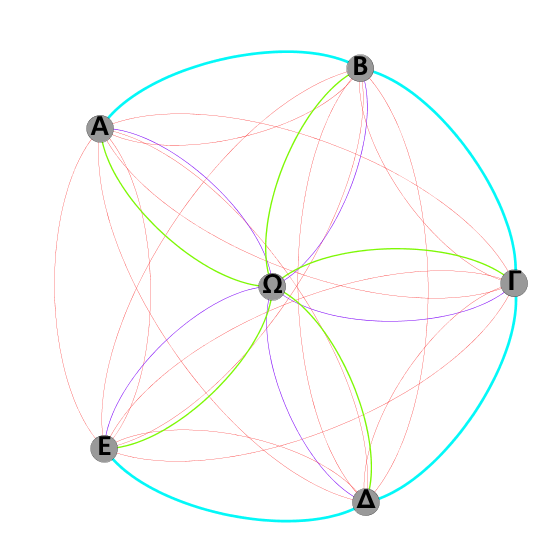 How to read this graphic: Gephi, for some reason, does not put arrowheads on edges (connections) when it renders directed graphs with curved edges, which need to be curved in order to see them all. However, you can tell the direction because the edges always curl to the right relative to the source node. For instance, the blue lines around the outside edge go in the direction from A to E.
Not Pictured
Steering, finance, marketing, branding, SEO, analytics.
These concerns are at right-angles to this plan. They either pervade it or are itinerant concerns, or both.