We began serving on the board of the Information Architecture Institute on October 2, 2010. Week after week, we did very little but bicker. We had little if any experience working together, and at least in my case, no experience whatsoever directing a non-profit organization.
Everybody involved had a flurry of ideas and initiatives for what they wanted to do with their board tenure. Most conspicuously, everybody had pet priorities couched in private understanding.
It was clear that in order to collaborate we needed a common language, and it was ultimately convenient that manufacturing common language is kind of what I do.
On one of our weekly conference calls in late January 2011, we invited Thomas Vander Wal to talk to us about the original purpose and objectives of the institute. Immediately afterward, I sketched out this: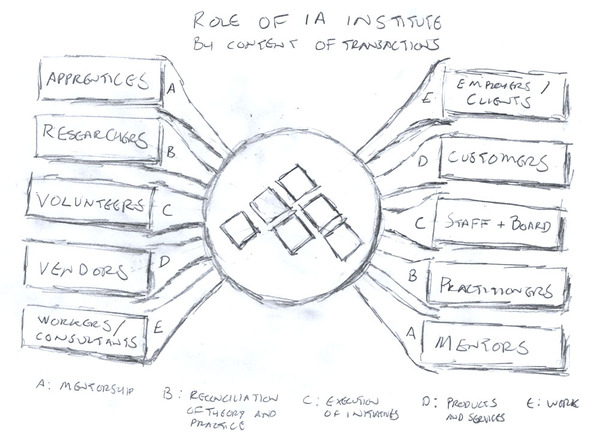 A week or two later, we took this image to Iceland where we put it on the wall for the purpose of focusing our attention while we sat in a hotel basement for (most of) two days.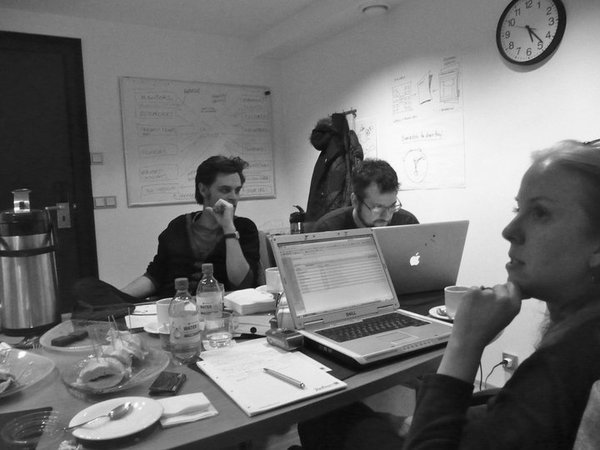 We did get out a little bit, though.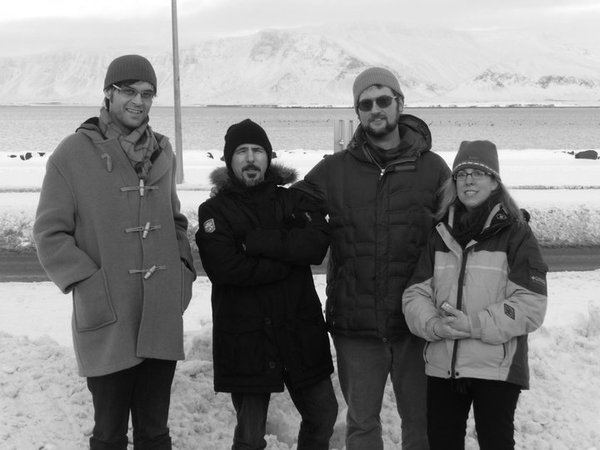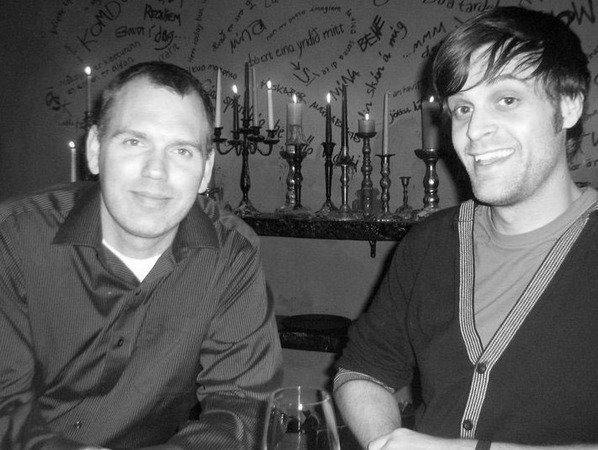 Photo credits: Jeff Parks and Noreen Whysel
The fundamental relationships in the diagram didn't change much, though some of the wording did and so did the positions of the relationships. There is some significance to the left and right panels but we're not quite sure what it is yet.
In addition to the relationships in which the Institute serves as a mediator, we also added two direct relationships: one to business leaders and one to other service organizations. The only thing left to do was formalize the image, which I did in time for the IA Summit, to be printed onto a card.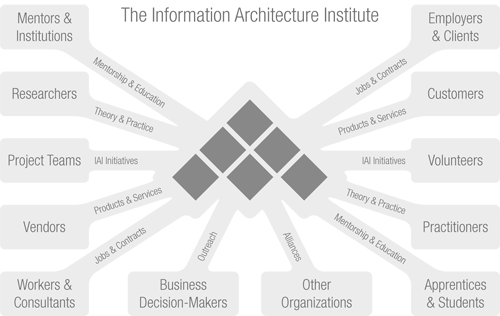 Of course, the back of the card was a little barren, so I wrote some copy for it. This was probably the easiest copy I've ever written. A single draft, started as a text file and subedited directly in Illustrator, which I'll reproduce here:
As a discipline matures, a little introspection is healthy. And nobody, it seems, introspects like the practitioners of a discipline founded upon introspection. This is why the 2010-2012 board of the Information Architecture Institute has chosen to frame its function in terms of relationships which we believe will create value and enable both the Institute and the discipline to stand out in a growing, yet still turbulent space.

We aim to facilitate the following relationships and the people and groups they serve:

Mentors/Institutions and Apprentices/Students

This is the relationship of induction, education, training and professional development. It is about bringing people into the practice of information architecture and strengthening their acumen.

Researchers and Practitioners

This is the relationship of reconciling theory with practice. It is about getting important research out into the field, as well as getting feedback from the field about which research is important.

Project Teams and Volunteers

This is the relationship of service. It is about providing the infrastructure for motivated people, whose time we recognize as valuable, to perform effectively and achieve results in the endeavours of the organization.

Vendors and Customers

This is the relationship of commerce. It is about enabling our members to trade the products and services that make them more effective at the practice of information architecture.

Workers/Consultants and Employers/Clients

This is the relationship of work. It is about connecting information architects with the projects and organizations that make their skills useful to the outside world.

In addition to these mediating relationships, there are the relationships the Institute itself forges directly:

Business Decision-Makers

This is the relationship of outreach. It is about explaining to business leaders the value of information architecture and how it fits into their organizations.

Other Organizations

This is the relationship of alliance. It is about adding further definition to the Institute by situating it among a broader community of similar, but different organizations.
In my admittedly biased opinion, this artifact is an excellent start under the aegis of the Institute's new working motto:
Demonstrate the damn thing.